Friday night, I had the opportunity to watch the movie,
Grown Ups
, at one of Ohio's few remaining
drive-ins
. There have been some
positive reviews
out and some negative ones, like
this one
by James Rocchi, of MSN reviews.
Personally, I loved the movie and I might have a bias considering I have always been an Adam Sandler fan. http://www.adamsandler.com Put Adam Sandler, Kevin James, Chris Rock, Rob Schneider, and David Spade in a movie together and you will wonder why you forgot to bring your depends and purchased one of those rather expensive movie size coca-colas.
The summary of the movie is as follows. Thirty years after high school, five good friends reunite with their families for a Fourth of July weekend to honor their now deceased coach and to spread his ashes. They gather at the lake house where they celebrated their biggest basketball victory. Over the course of the weekend, the friends realize that, even though they are grown ups and started families, they still are good friends.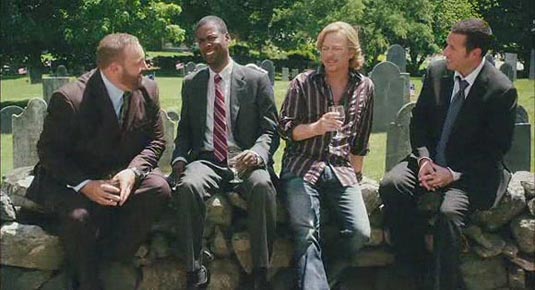 The main characters are:
• Lenny, played by Adam Sandler, is a levelheaded leader and a major Hollywood agent, married to a fashion developer, and is raising three spoiled children.
• Eric, played by Kevin James, is a goofy sidekick who has recently become an unemployed businessman and is married to a woman who is still breastfeeding their four year old.
• Kurt, played by Chris Rock, is a soft spoken, domesticated husband married to a Type A wife.
• Marcus, played by David Spade, is prankster, a womanizer and a full time party animal.
• Last, Rob, played Rob Schneider, is an oddball who endures all the pranks and punch lines that the group throws at him, and he is married to an older woman who is merely an older version of himself, thus making him the butt of more jokes.
Grown Ups is not any different from prior Adam Sandler movies in that Sandler brings with him a sense of seriousness with a childlike experience. It is all about friends who share a special bond of brotherhood that time cannot take away. Grown Ups also pokes at the chaos of normal adult life. When the group gathers, they do not just experience a reminder of their friendship but also strong emotional support from one another.
Sandler's spoiled children learn important life lessons, Eric gets a job and Kurt develops a backbone. Marcus learns morality and Rob continues to be made fun of. If anything, Grown Ups is like a PG 13 version of Saturday Night Live. Moreover, it is a great reminder of friendships and brotherhood that nothing, including time, can change.
If you need something to do this holiday weekend and comedy is your thing, Grown Ups just might be your next favorite movie. Here are some teaser clips of the movie.